MA24105A Inline Power Sensor
Introduction
Attaching the MA24105A inline peak power sensor adds additional menus and submenus required for making the following in‑line measurements:
•
Forward Measurements: Average Power, Crest Factor, Peak Envelope Power (PEP), Burst Average Power, and CCDF.
•
Reverse Measurements: Average Power, Reflection Coefficient, Return Loss, and VSWR.
In the default view the analog meter displays the forward measurements. The reverse measurements are displayed below the numerical display of the forward measurements (
Figure: Power Meter View
). To view all of the forward and reverse measurements in table format, use the Summary Table display (
Figure: Summary Table View
).
Power Meter View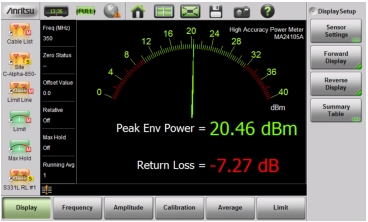 Summary Table View