SCREENSHOT Settings
SCREENSHOT menu provides setup and file saving parameters. The screenshot is saved in a internally or a users set file location
Press: 3-Line Icon | SETTINGS | SCREENSHOT.
Screenshots can be previewed and retrieved from the instrument display. See.
Screenshot Setup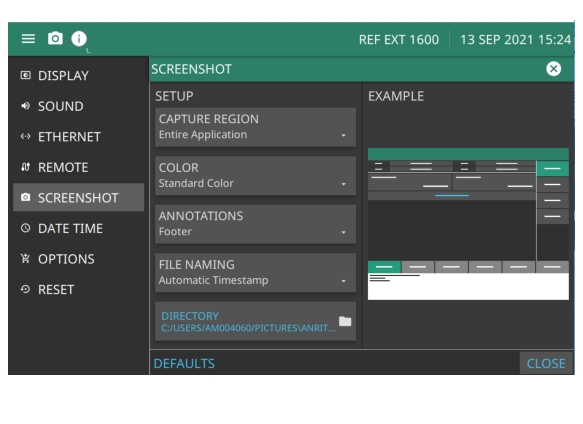 CAPTURE REGION:
Entire window or graph area only
COLOR:
Standard or Printable Color
ANNOTATIONS:
May be placed at top (header) or bottom (footer) of captured image
FILE NAMING:
Set with Automatic Timestamp or Manual
DIRECTORY:
Directory path to destination folder where the file is to be saved
DEFAULTS
Resets parameters on this page to default values.