LEVEL SWEEP Menu
The LEVEL Setup Menu is shown in
Figure: SWEEP LEVEL Menu
.
Press: SWEEP | LEVEL | SETUP.
SWEEP LEVEL Menu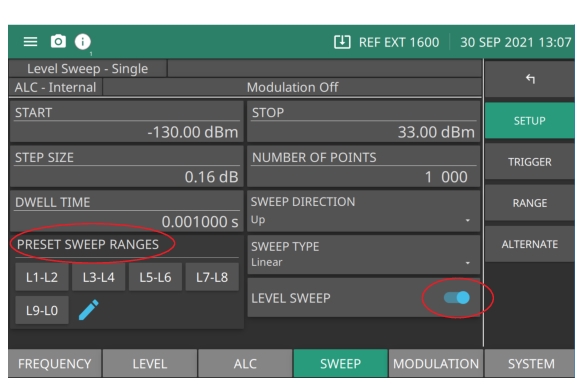 START
Set the start level of the step sweep.
STOP
Set the stop level of the step sweep.
STEP SIZE
Set step size in frequency increments per sweep. The step size and the number of points are interactive.
NUMBER OF POINTS
Set the number of points per sweep. The number of points and step size are interactive.
DWELL TIME
Sets the sweep per point dwell time. Units are in seconds.
SWEEP DIRECTION
Sets the direction of the sweep up/down. Up = start to stop sweep. Down = stop to start sweep.
PRSET SWEEP RANGES
Selects a frequency sweep range preset.
Range: F1F2|F3F4|F5DF|F6DF|L1L2|L3L4|L5L6|L7L8|L9L0
SWEEP TYPE
Sets the parameter for sweep type to logarithmic or linear sweep operation.
LEVEL SWEEP
Toggle to activate or deactivate level sweep.