Recall Files
Press the
Recall Measurement
key or the
Recall
key under the File menu to recall a previously saved file from internal memory or an external USB drive, if connected. The files listed in the Recall dialog box depend on the file type selected. See
Figure: Recall Dialog Box
. JPEG image files cannot be recalled.
Recall Dialog Box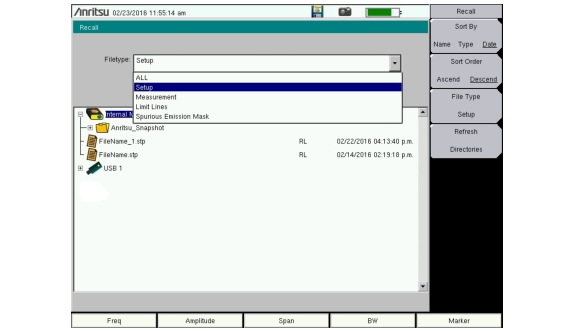 The submenu keys let you change the file types and sort order of the displayed file list. Refer to
Recall Menu
.
The Filetype drop down list has the same function as the
File Type
submenu key. Selectable file types vary with the measurement mode. Use the touch screen, rotary knob, or the
Up/Down
arrow keys to select the file you wish to recall, then press
Enter
.
From the Recall dialog box, you can create a shortcut to a setup file and place the shortcut icon on the instrument's Menu screen. Refer to
User-Created Shortcuts
.