Erase All User Files in Internal Memory
Perform a Master Reset:
1.
Press the
Preset
(
1
) button.
2.
Press the
Reset
drop down submenu then press the
Reset
button. Select
Master Reset
and read the description on the screen (
Figure: Master Reset
).
Master Reset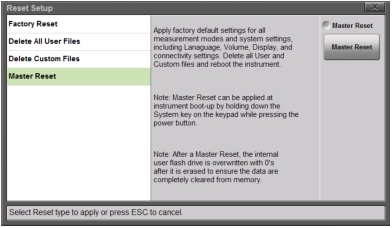 3.
To erase all user files in internal memory, press the
Master Reset
button. A dialog box is displayed, warning that all settings will be returned to factory default values and that all user files will be deleted (
Figure: Master Reset Confirmation
). Deleted files cannot be recovered.
Master Reset Confirmation

4.
Press
Yes
to complete the master reset and reboot the instrument.
5.
The instrument is now reset.
Refer to the
Preset Menu
for additional information on reset options.