GPS Menu
To use GPS, you must have an external USB‑based GPS module connected.
Key Sequence:
System
(
8
) > Connectivity > GPS
GPS Menu

Clear Data

Press this key to clear the Site Master's current GPS location data or last known GPS location data. If a compatible GPS module is attached, then the instrument will attempt to re‑acquire a GPS fix.

Note:

The last Good Fix location information will be retained until the instrument is powered off, the Clear Data button is pressed, or a new Good Fix is acquired. The Good Fix or the Last Fix location information is store d in the measurement file and is included in the screen capture header/footer.

Sync System Time

Press this key to sync the instrument's time setting with the current GPS information. Sync only works with a good GPS fix.

After a valid sync the instrument time is reset based on the UTC time plus/minus the time zone offset. Refer to

Time Zone Settings

.
GPS Info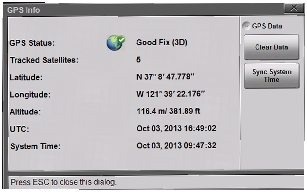 | | |
| --- | --- |
| | An exclamation mark (!) is appended to the GPS location data in screen captures when the instrument is using Last Fix instead of current GPS information. |
"(!)" Indicates Last Fix GPS Data