LIST TRIGGER Menu
When manual trigger mode is selected, the list start index, list stop index, and dwell time parameter are not used. Instead, the list index is incremented or decremented by using the front panel cursor control keys. In manual trigger mode, the list index can also be incremented by using an external trigger input. Each trigger increments the list index by one.
After a reset, the list sweep defaults to manual trigger mode. The data display shows the trigger mode, list index, current frequency, and current power level. The list index specifies the current location within the list. When automatic, external, or single trigger mode is selected, the data display changes to show the trigger mode and list sweep start and stop index values only. The LIST TRIGGER menu is shown in
Figure: SWEEP LEVEL TRIGGER Menu
.
Press: SWEEP | LIST | TRIGGER| TRIGGER
SWEEP LEVEL TRIGGER Menu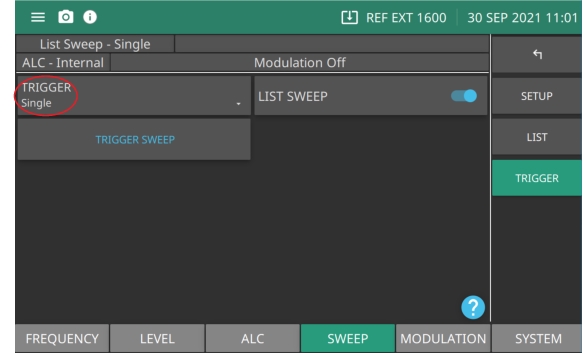 TRIGGER
Press to display the trigger types: Auto, Single, External, Manual, and Remote. Pressing the information icon at the bottom right of the screen shows the TRIGGER TYPES description dialog shown in
Figure: TRIGGER TYPES
.
LIST SWEEP
Press to initiate a sweep of the List sweep parameters.
TRIGGER SWEEP
Trigger a single sweep. Enabled only in single sweep trigger mode.
List Mode Sweep Trigger Types
TRIGGER SWEEP: Sets a complete sweep upon receiving a trigger. Available in all sweeps except Manual Sweep.
TRIGGER POINT: Active in Manual Trigger only. Each time the TRIGGER POINT button is pressed. the sweep advances to the next CW point in the sweep.