Recall File
You can recall a previously saved measurement or setup or a screen shot file either from the instrument internal memory or from a removable USB drive. Only one file of any type can be recalled at a time.
| | |
| --- | --- |
| | Recalling a measurement or setup may change the current instrument settings and turn off any calibration correction. Consider saving the current setup before recalling a file. |
Recall a Measurement
1.
Press the
File
(
7
)
key to display the File menu.
2.
Press
Recall
to open the Recall dialog box.
3.
Press the
Filetype
button, then touch
Measurement
or
All
to list only measurement files or all file types, respectively.
4.
Press the
Location
button and navigate to the desired measurement file (.dat). Select it, then press
Enter
(or
Recall
in the Recall dialog).
In the example below, the selected file is a Cable Loss measurement file located on a removable USB drive.
Recall Dialog Box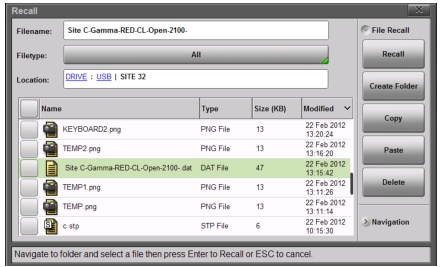 5.
In the preview screen that opens, press
Enter
to complete recalling the measurement. To cancel the recall and return to the
File Recall
menu, press
ESC
.
Preview of a Recalled Measurement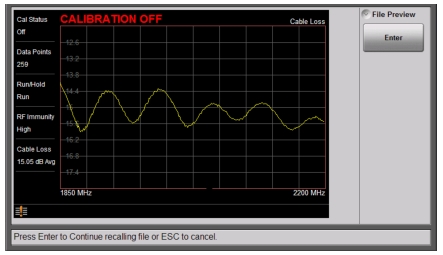 Recalled Measurement and Active Trace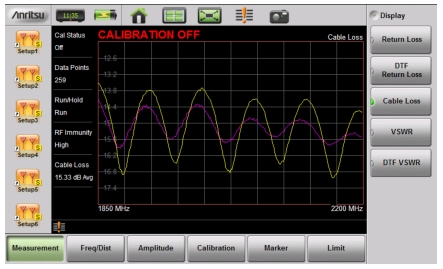 The recalled measurement is the purple trace and is overlaid on the current active (yellow) trace. In
Figure: Recalled Measurement and Active Trace
, the recalled measurement is used to compare the cable loss of two different RF cables. Recalled measurements are automatically saved to trace memory for use in trace match functions. To see the recalled measurement and the current measurement simultaneously, select
Trace & Memory
in the
Trace Display
submenu. Refer to
Trace
.